From shoppers to members to engineers, marketers, and our shopper appreciation team, it's the people who make Shipt, Shipt. In this series, we get to know the members of our diverse community, from their shopping list staples to their dream deliveries. First up: shopper appreciation mastermind, Christie P.
People are often surprised to hear we have an entire team dedicated to shopper appreciation. Christie has been the driving force behind the team since our early days, supporting our shopper community with her optimism and thoughtfulness. She's well loved by shoppers for her cheery Facebook posts, celebratory shopper milestone gifts, and the dozens of other ways in which she brightens up the Shipt community. Keep reading to learn more about Christie's creative spin on the PB&J and the time she helped coordinate a Shipt delivery of 500 artichokes.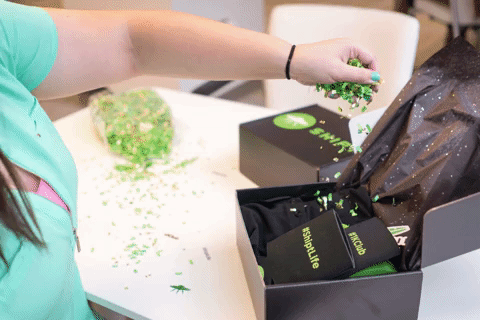 1.) What does your typical day look like?
An eclectic mix of browsing for gifts for our shoppers, creating charts and stuffing envelopes.
2.) What excites you most about your job?
I get to do something I love: spreading happiness and giving gifts.
3.) You're making a PB&J. What kind of bread? Crunchy or creamy? What kind of jelly? Any wacky ingredients on top?
Wheat. Creamy. Grape or Apple. There's something delicious about adding Wavy Lay's to your PB&J.
4.) What's always on your grocery list?
Cheese and bottled water.
5.) What's the last book you read?
The Dark Tower I: The Gunslinger
6.) What's the photo on your home-screen?
The star-filled night sky, which pairs with my lock screen image (the Tardis).
7.) If you could deliver groceries to anyone in the world, who would it be?
David Tennant, who plays the title character in the TV show "Doctor Who."
8.) What's your secret weapon?
I have a massive abundance of useless trivia. Did you know penguins can eat up to 400 pounds of fish in a year? Or that Peter Jackson, director of the "Lord of the Rings" movies, made sure to have a part in each film?
9.) What's your favorite Shipt memory?
When I was still resolving issues for members on the Experience team, we received a call from a member who needed 500 artichokes in 48 hours. Luckily, I had some shopper friends in that area. We banded together, several phone calls and three hatchbacks later, we delivered on time!
10.) Complete this sentence: I love working at Shipt because…
It gives me a chance every day to pay it forward and brighten someone's day.
Got a burning question for Christie? Share it in the comments!